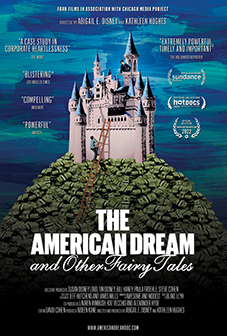 Film: The American Dream and Other Fairy Tales
Abigail Disney, USA 2022, 87 min.









Onsdag 21. sept. kl. 18:15
og 19.okt. kl. 18:45, 2022
på Vega Scene.

Doku:nomics:

Film: The American Dream and Other Fairy Tales
Økonomisk ulikhet og absurde lederlønninger i Disneyland.

Filmskaper og Disney-arving Abigail Disney tar et oppgjør med den sterkt voksende ulikheten i USA med et dybdeblikk på selskapet som ble startet av hennes egen bestefar og grandonkel.

Den amerikanske drømmen har blitt en drøm kun for de rike, mens resten ikke engang har råd til mat og bolig, selv med fulltids arbeid.

Filmen starter i 2018 da Abigail Disney kommer i kontakt med flere arbeidere på Disneyland i Anaheim, California og oppdager at selv faste ansatte med full jobb i "The happiest place in the world" lever under fattigdomsgrensen, mens selskapets CEO tjener helt absurde mengder penger.

Gjennom historien om et knippe ansatte i Disneyland tegner filmen et bilde av en ekstrem og raskt ekspanderende ulikhet i USA.

Mer informasjon kommer.


---
Skrevet om filmen:
Extremely powerful, timely and important
-Hollywood Reporter

Blistering. Abigail Disney calls out corporate greed. Beginning with Disney.
-Los Angeles Times

Compelling
-Indiewire

Powerful (...) Our democracy looks a lot like oligarchy.
-Variety

Doku:nomics er en film- og samtaleserie der vi dykker inn i ideene og konseptene som er i ferd med å revolusjonere hvordan vi tenker om penger og økonomi.


I samarbeid med Vega Scene.