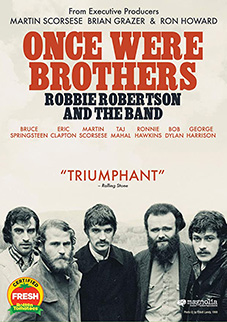 Once Were Brothers
Daniel Roher, USA 2019, 100 min.

Engelsk tale / norsk tekst

Facebook-event.
Mandag 23. august kl.
21:30


NB! nytt tidspunkt: 22:00
på Salt
Once Were Brothers
Historien om et bands (THE BAND) liv og død.
The story of the The Band was a beautiful thing. It was so beautiful it went up in flames.
- Robbie Robertson


Robbie Robertson og Levon Helm spilte sammen fra slutten av 1950-tallet. Etterhvert samlet de sammen musikerne som senere ble til The Band som gjorde enormt inntrykk fram til den grandiose avslutningskonserten The Last Waltz i 1976.

De var en periode Bob Dylans backingband men skapte i første rekke sin egen sjanger og har satt varige spor i amerikansk musikk.

The Band har to album ("Music from Big Pink" og "The Band") blant de 100 første i Rolling Stone Magazines liste over de 500 beste album noensinne.

Once Were Brothers er først og fremst gitarist Robbie Robertsons historie om bandets liv og død.

I samarbeid med Salt.