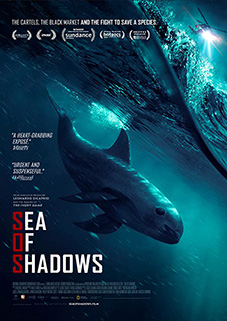 Sea of Shadows
Richard Ladkani, Østerrike 2019, 104 min

Engelsk og spansk tale / tekstet på engelsk.

Onsdag 18. og 25. november 2020 kl. 18:00
på Vega Scene.

UTSATT PGA SMITTEVERNRESTRIKSJONER.


Sea of Shadows
Mafia, øko-krim og journalistikk
Spenningsfilm om hvordan et meksikansk kartell og kinesisk etterspørsel etter svømmeblærer er i ferd med å utrydde verdens minste hval.

Utenfor Mexicos vestkyst jakter kartellene på havets kokain – den ekstremt verdifulle totoaba-fisken, som selges som en delikatesse i Kina. Men i de samme totoaba-nettene setter den særs utrydningstruede vaquita-hvalen seg fast og dør. Forsøket på å redde vaquita-hvalen leder oss dypt inn i et farlig nettverk av meksikanske karteller, kinesiske smuglere og korrupt politi og politikere. Det blir en kamp på liv og død, både for hvalen og dens forkjempere.

Filmen viser hvordan organisert kriminalitet og korrupsjonens forgreninger inn i alle samfunnslag er en dødelig fiende ikke bare for lokalbefolkningen og journalister, men også miljøvernere og havets aller mest sårbare skapninger.

Vinner av publikumsprisen på Sundance.

An environmentally conscious, unabashedly heart-grabbing exposé.
- Variety

Heroic and heartrending (...)
An almost unbearable emotional roller coaster (...)
Hope and despair are inextricably entwined in this urgent, suspenseful dispatch.
- Hollywood Reporter

Based on solid journalism (...) this is a murky, compelling tale that exists at the crossroads of corruption and idealism.
- Time Out

I samarbeid med Vega Scene og HUMAN internasjonale dokumentarfilmfestival.