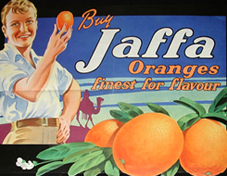 Jaffa - The Orange's Clockwork
Eyal Sivan, Israel/Frankrike/Tyskland/Belgia
2009, 86 min (In Arabic, Hebrew, English,
subtitled in English).
Mandag 5. mars 2018, kl. 21:00
på Litteraturhuset (Wergeland)


JAFFA, THE ORANGE'S CLOCKWORK

En film av Eyal Sivan

I samarbeid med Litteraturhuset (Saladindagene)
Jaffa - The Orange's Clockwork is the story of Jaffa and how oranges from Jaffa went from being a predominantly Palestinian export product to become a symbol of Israel. As in many of his films, Eyal Sivan is concerned with changing our understanding of history.

The film is from 2009 but just as relevant today as it was then.

Med engelske undertekster/English subtitles.

Historien om Jaffa-appelsinen er historien om Israel og Palestina. Appelsinen har spilt en sentral rolle i regionens historie, fra britene satte i gang storstilt eksport, til den israelske og vestlige fortellingen om den øde, bibelske ørkenen de fikk til å blomstre, til dagens debatter om boikott. Som i mange av sine filmer er Eyal Sivan opptatt av å endre vår forståelse av historien.

Filmen er fra 2009 men like relevant idag som da.

NB! Før filmen kan du høre et foredrag av Ilan Pappe etterfulgt av en samtale mellom Pappe og Marte Heian-Engdal. Les mer på Litteraturhusets sider.